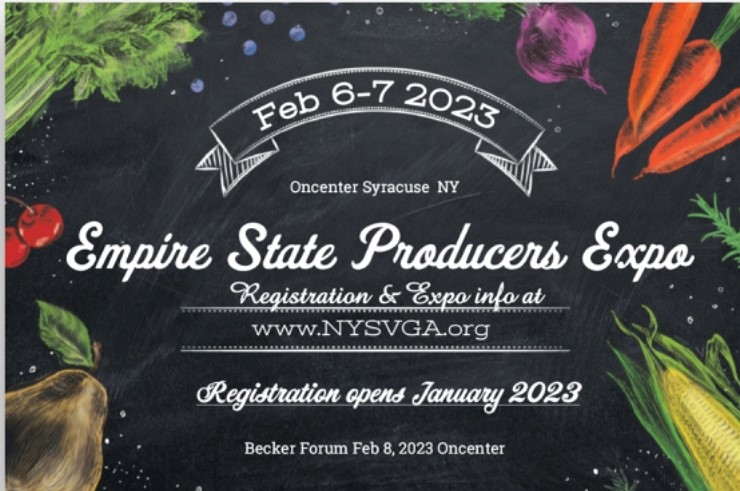 2023 EMPIRE STATE PRODUCERS EXPO
---
DATES
Becker Forum: Wednesday, February 8, 2023
Oncenter Syracuse
Empire State Producers Expo: Monday and Tuesday, February 6 & 7, 2023
Oncenter Syracuse
---
HOTEL
Marriott Syracuse Downtown
100 East Onondaga Street, Syracuse, NY 13202
315.474.2424
Special group rate: $130/night (Deadline 1/24)
• Click here to book your room at the group rate
---
EXPO INFORMATION
The 2023 Empire State Producers Expo will take place on February 6-7 2023 at the Oncenter Syracuse- 100 E Onondaga St. Syracuse NY 13202. This annual show is hosted by the New York State Vegetable Growers Association in order to provide a comprehensive trade show and educational conference for New York producers, as well as neighboring states and Eastern Canada.
This year's conference has been planned exclusively by the New York State Vegetable Growers Association. Each session has been planned to encapsulate what Farmers want to learn and hear about. The show is going back to its roots, sessions that Farmers are interested in and lots of networking opportunities. Panel discussions feature some of the top industry experts and growers in New York. Between educational sessions, attendees can visit the trade show featuring commercial vendors and non-profit exhibitors.
Session topics include commodity specific programs in, sweet corn, onions, cabbage, soil health, high tunnel, disease management, tomatoes, Snap beans and cucurbits.
DEC pesticide recertification credits will be offered during the appropriate educational sessions.
---
REGISTRATION
• Online Registration has closed; Please register on-site at the Expo.
---
VENDOR INFORMATION
• Exhibitor Liability Insurance Requirements
• Download the vendor kit
• Download the vendor floor map
• Contact us if you would like additional information: NYSVegetablegrowers@gmail.com
---
SCHEDULE (OVERVIEW)
This is our proposed Schedule for the 2023 Empire State Producers Expo. We are waiting on DEC approval. This will be updated periodically.

Monday February 6, 2023
9:00-10:30am

Room 1/2: Food Safety – 0.50 DEC credit (10,1a,23)
Room 4/5/6: Cucurbits Session 1 – 0.50 DEC credit (10,1a,23)

10:30-11:15am
11:15am-12:25pm

Room 1/2: Cornography and Corn from Maine to Missouri: there are no wrong answers. – 1.0 DEC credit (10,1a,21)
Room 4/5/6: Cucurbits Session 2 – 1.0 DEC credit (10,1a,23)

12:35-2:25pm
2:25-3:35pm

Room 1/2: DEC: WPS – 1.0 DEC credit (CORE)
Room 4/5/6: Tomato Production Systems – 1.0 DEC credit (10,1a,23)

3:35-5pm

Networking Event on Trade Show Floor

Tuesday February 7, 2023
9:00-10:10am

Room 1/2: Onions – 1.0 DEC credit (10,1a,23)
Room 4/5/6: Cucurbits- IPM – 0.50 DEC credit (10,1a,23)

10:10-11:10am
11:10am-12:20pm

Room 1/2: Adventures in Agritainment
Room 4/5/6: Cabbage – 1.0 DEC credit (10,1a,23)

12:20-2:20pm
2:20-3:30pm

Room 1/2: High Tunnel Highlights and Help – 1.0 DEC credit (10,1a,23)
Room 4/5/6: Soil Health: Slang and Lingo

3:35-4:40pm

Room 1/2: DEC Rule Regulation Updates – 1.0 DEC credit (CORE)
Room 4/5/6: Farm to School: The Market Opportunity for New York Farmers
---
Becker Forum, Syracuse OnCenter
DRAFT Timed Agenda

Wednesday February 8, 2023
8:30
8:50

Welcome and Introductions

9:00

Research Update: New York Farm Workforce in Transition. Richard Stup, Cornell University

9:30

Regulating Union Organizing in NY Agriculture. John Wirenius or Sara Coleman, NY Public Employer Relations Board

10:00
10:15

What to do when a letter arrives from PERB. Joshua Viau from Fisher Phillips

10:45

Making your case with your employees, before and after organizing begins. Hilary Moreira from Bond Schoeneck & King

11:15

Q&A with Attorneys Viau and Moreira

11:45

Albany Legislative Update. Jeff Williams, Public Policy Director, New York Farm Bureau

12:00
12:45

H-2A and Federal Legislative Update: Michael Marsh, National Council of Agricultural Employers (NCAE)

1:30

Financial Literacy for Farm Workers. Sheila Marshman, SUNY Morrisville and Julie Patterson, Patterson Farms

2:00

Producer Panel on Labor Efficiency (employee development, time tracking, better labor planning)

2:45
3:00

Managing Stress and Staying Positive. Jennifer Schwytzer, Family Consultant, NY FarmNet

3:45

Governor's "Working Group to Support New York Farmers." Commissioner Richard Ball or designee

4:00

---

SCHEDULE (DETAILED)


Monday February 6, 2023

Food Safety
Room 1/2
Session Organized by: Brian Reeves

9:00am Announcements and DEC credit Sign-up – Brian Reeves
9:05am Produce Traceability Rule Update – Jennifer Trodden, Deputy Commissioner NYS Dept. Ag & Markets
9:25am Subpart E Post Harvest Water Use – Steve Shirmer, NYSDAM
9:45am Subpart E Production Water Use – Laura Pineda Bermudez
10:15am What's new in industry
10:20am Adjourn

---


Cucurbits
Room 4/5/6
Session Organized by: Brian Reeves

9:00am Announcements and DEC credit Sign-up – Brian Reeves, NYSVGA
9:05am Some love it wet, others dry: The many cucurbit pathogens and their management – Margaret T. McGrath, LIHREC
9:35am Enterprise budget considerations for cucurbit production – Elizabeth Higgins, Business Management Specialist ENY Horticultural Team
10:05am What's new in industry
10:15am Adjourn

---


Cornography and Corn from Maine to Missouri: there are no wrong answers.
Room 1/2
Session Organized by: Jason Turek

11:15am Announcements and DEC credit Sign-up
11:20am Cornography and Corn Stars. The most common questions and answers from an industry veteran – Blake Myers, Gowan Co.
11:50am Corn from Maine to Missouri, there are no right answers – Jay Ruwett and Matt Hollinsworth, Syngenta
12:20pm What does it really take to breakeven growing sweetcorn? – Elizabeth Higgins
What's new in industry
12:35pm Adjourn

---


Cucurbits
Room 4/5/6
Session Organized by: Brian Reeves

11:15am Announcements and DEC credit Sign-up – Brian Reeves
11:20am Cucurbit Yellow Vine Disease (CYVD). Biology of the disease, how it is spread, initial disease management recommendations, and our continuing research into this issue – Brian A. Nault, Professor & Program Leader Department of Entomology Cornell AgriTech
11:50am Tools for managing powdery mildew in winter squash organically: biofungicides and cultivar evaluations – Libby Indermaur, PhD candidate under Chris Smart
12:20pm Feasibility of Mesotunnels for organic cucurbit production in New York
12:40pm Adjourn

---


Tomato Production Systems
Room 1/2
Session Organized by: Tim Stanton

2:25pm Announcements and DEC credit Sign-up – Tim Stanton
2:30pm Effective, economic fungicide program for tomatoes: is it possible?? – Margaret T McGrath
3:00pm Grower panel

Tony Emmi- Emmi & Sons Inc
John Altobele- Altobele Family Farm
Chris Cashen- Farm at Millers Crossing

3:30pm What's new in industry
3:35pm Adjourn

---


DEC Rule Regulation Updates
Room 4/5/6
Session Organized by: Jason Turek

2:25pm Announcements and DEC credit Sign-up – Jason Turek
2:30pm Point Driven Discussion on WPS Updates and Rule Regulation updates
3:35pm Q&A

---


Trade Show Happy Hour Networking Event

3:45pm-5:00pm Raffle prizes, cash bar, etc

---



Tuesday February 7, 2023

Onions: Resistance Management and new tools for managing pests in New York Onions
Room 1/2
Session Organized by: Paul Ruszkiewicz

9:00am Announcements and DEC credit Sign-up – Paul Ruszkiewicz
9:05am What's new from industry
9:10am New and upcoming tools for thrips and maggot control in onion – Brian A. Nault, Professor & Program Leader Department of Entomology Cornell AgriTech
9:40am Update on Stemphylium leaf blight of onion and development of fungicide resistance – Daniel Heck, Post Dr. Assoc, Cornell Agritech
10:10am Adjourn

---


Cucurbits
Room 4/5/6
Session Organized by: Brian Reeves

9:00am Announcements and DEC credit Sign-up – Brian Reeves, NYSVGA
9:05am IPM approach to weed management in cucurbit crops – Bryan Brown, NYSIPM Program
9:35am Grower Panel: Different Production Methods for cucurbit production in NY –
Dave Zittel (Amos Zittel and Sons), Travis Torrey (Torrey Farms), and Jake Hartway.
10:05am What's new in industry
10:15am Adjourn

---


Adventures in Agritainment
Room 1/2
Session Organized by: Tim Stanton

11:10am Announcements and DEC credit Sign-up – Tim Stanton
11:15am Two Farms; Experiences & Evolution over 30+ years

Ioka Valley Farm (Hancock, MA) – Dan Leab & Heather Leab Eckhardt
Stanton Fuera Farm (Fuera Bush, NY) – Tim Stanton Family

12:00 What's new in industry
12:10pm Adjourn

---


Cabbage
Room 4/5/6
Session Organized by: Eric Hansen

11:10am Announcements and DEC credit Sign-up – Eric Hansen
11:15am Cabbage scouting to the next level – Jessica Duppengeiser, Dairy One
11:45am Striving to eliminate hand weeding in cabbage with strategic herbicide use – Christy Hoepting
12:10 What's new in industry
12:20pm Adjourn

---


High Tunnel Highlights & Help
Room 1/2
Session Organized by: Tim Stanton

2:20pm Announcements and DEC credit Sign-up – Tim Stanton
2:25pm Nutrition and bio based Insect and mite management in tunnel Tomatoes
– Steve Bogash, Pro Farm Group. "Bio with Bite" – VIA zoom
2:55pm Grower speaker: Tomatoes to sell from Strawberries til Halloween – Tim Stanton
3:20pm What's new in industry
3:30pm Adjourn

---


Soil Health: Slang and Lingo
Room 4/5/6
Session Organized by: Eric Hansen / Larry Eckhart

2:20pm Announcements and DEC credit Sign-up – Eric Hansen
2:25pm Soil health speaker
2:55pm General Discussion: Ag, Soil health, Climate Smart: all the lingo
3:25pm What's new in industry
3:30pm Adjourn

---


DEC Rule Regulation Updates
Room 1/2
Session Organized by: Jason Turek

3:35pm Announcements and DEC credit Sign-up – Jason Turek
3:40pm Point Driven Discussion on WPS Updates and Rule Regulation updates.
4:15pm Q&A
4:45pm Adjourn

---


Farm to School: The Market Opportunity for New York Farmers
Room 3/4/5
Session Organized by: Jason Turek

3:35pm Farm to School: The Market Opportunity for New York Farmers.

The NY 30% Initiative, how schools purchase food, and tips for success- Lizzy Cooper – CNY Farm to School Coordinator Cornell Cooperative Extension | Harvest NY